In November, Emmanuel College Warrnambool and Mercy Regional College Camperdown, hosted Deputy Principals from the Mercy Schools' Network for the 2022 Deputy Principals' Seminar.
The theme of the seminar was School Leadership in a Changing Landscape and featured the following guest speakers:
Dr Jodie Fleming – A mindfulness grounding session.
Kate Meadows – Creating a mentally healthy workplace, mental health awareness, strategies for coping with difficult emotions, the six aspects of self-care, and the importance of mindset.
Dr Jayne-Louise Collins – How we might create hopeful and meaningful futures in these radically changing times?
Dr Bernadette Nicholls – How to manage the certainty of uncertainty in a rapidly changing educational landscape.
Attendees also enjoyed a session on collaboration and best practice sharing, facilitated by Rachel Valentine, Deputy Principal at St Aloysius College North Melbourne.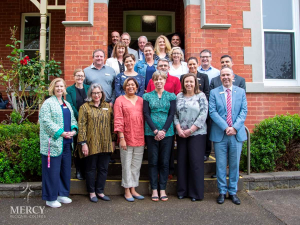 Deputy Principals from the Mercy Schools Network gathered for the 2022 Deputy Principals' Seminar